Heading off on a break over the half term? We've got some top tips for you to ensure you and your vehicle are ready to hit the roads :
– Make sure you've packed all your documents ready to drive in Europe, including a full valid driving licence, proof of insurance, proof of ID, V5C certificate, travel insurance documents
– Before you travel ensure your vehicle's tax and MOT are valid and up-to-date
Important documents for driving in Europe
Full, valid driving licence and national insurance number
Proof of vehicle insurance
Proof of ID (passport)
V5C certificate (the 'log book')
Travel insurance documents
European Breakdown Cover policy number and documents
Before you travel ensure your vehicle's tax and MOT are valid and up-to-date
Crit'air sticker if driving in France (find out if you need one here)
You may also need to carry other documents with you, namely:
Required equipment for driving in Europe
Reflective jackets (there must be one for each passenger and be kept within the cabin of the car)
Warning triangle (compulsory in most countries)
Headlamp beam deflectors (depending on your car, you'll either need deflector stickers or have to adjust the beam manually)
Safety helmets are compulsory for riders and passengers of motorcyclists and moped users
UK car sticker (if you don't have a GB Euro number plate, or no matter what's on you number plate when driving in Cyprus, Malta or Spain)
First aid kit (compulsory in Austria, France and Germany)
Recommended things to take with you for Driving in Europe
Fire extinguisher
Replacement bulbs
A high quality torch
A spare fuel can
Additional engine oil and water (for topping up)
An up-to-date road map or satellite navigation system
Blanket
Sun cream
Refreshments and plenty of water
If you have children, take some games you can play in the car during the journey
Take extra supplies of medication in case you can't get these abroad
Photocopies of important documents
European Health Insurance card
Downloadable driving in Europe checklist
For a comprehensive list of what you need to take with you when driving in Europe with a UK car, our downloadable checklist will have you fully prepared.
In addition to the checklist above, the next best thing to do is to familiarise yourself with the driving laws, specific entry requirements and compulsory items to carry for the country/ies you will be driving in.
You can find everything you need to know on our detailed European countries advice pages below.
If the country you are visiting is not on the list use the 'driving advice for every country in Europe' widget to your right (at the bottom of the article on mobile) to find the right country. 
For those travelling to France we also have a further top ten tips for driving through France to keep your knowledge up to date at a glance.
Will Brexit impact my European travel plans?
There is inevitably a degree of uncertainty, but don't let this put you off driving abroad. 
Based on government advice, we recommend that you spend a little extra on an International Driving Permit if you're planning on driving in Europe. It's better to be safe than sorry.
The RAC will continue to provide breakdown cover through our partners operating within the European Union.
With our European breakdown cover, there is no limit to the costs to get your vehicle home, whether you're travelling to Europe for a single trip or all throughout the year.
If repairs cost more than £500 you can choose to have your car brought home instead of having it repaired in Europe, providing the vehicle is not beyond economical repair.
It is vital that you also have the correct documentation with you – such as an International Driving Permit.
Do I need an insurance green card?
From 2nd August 2021, drivers will no longer require an insurance green card for taking their vehicles to an EU country.
20 tips for driving in Europe: before you leave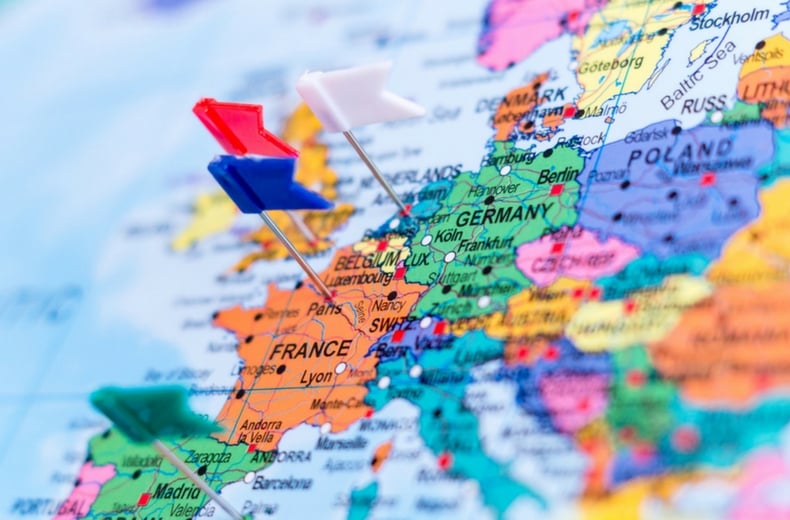 We've teamed up with the Foreign and Commonwealth Office (FCO) to give you some tips on preparing for a great trip, whether you're driving or travelling abroad.
1. Adjust your headlights
It is a legal requirement not to dazzle oncoming drivers.
Make sure you adjust your headlamps ready for driving on the right-hand side of the road.
Headlamp converters (stickers you put on your headlights) are widely available.
2. Buy a UK sticker
Don't forget that your vehicle must display the appropriate country identification letters (e.g. UK).
Failure to do so may result in an on-the-spot fine, but if your number plates include the UK Euro symbol, you do not need a sticker within the EU (except in Cyprus, Malta and Spain, where stickers are needed no matter what is shown on your number plate).
3. Make a travel pack
Create a travel pack containing all the appropriate documentation you will need to comply with the legal requirements of the country you are visiting and to help if you get into difficulties.
In addition to your passport and driving licence this may include your vehicle registration document (V5); motor insurance certificate; International Driving Permit (if required or advised); breakdown policy and contact numbers; travel insurance documents, and any emergency helpline numbers.
4. Check your breakdown cover extends to Europe
You may need to increase your existing cover or take out standalone European breakdown policy to avoid unnecessary stress and significant additional expense if anything goes wrong.
If you need breakdown cover abroad for a short time, why not try our Single Trip European Breakdown Cover, starting from just £6. If you drive to Europe on a regular basis, then our annual trip product will be more suitable for you.
5. Check your car insurance
Make sure your car insurance covers you to drive abroad. Check with your insurance company that you're fully covered to drive abroad.
If you don't have overseas cover, you will only have the minimum legal cover (usually third party only) in the EU and you may need to pay an extra premium to extend your insurance cover.
If you're hiring a car, don't forget to cover your hire excess. In the event your rental car is damaged or stolen, or if you put the wrong fuel in, your rental company will expect you to pay to repair or replace the vehicle. Car hire excess insurance protects your excess, meaning you can claim back any charges.
6. Need a visa?
Make sure you've got correct visas for the country you are visiting and that your passport is valid. 
Even if the UK leaves the EU without a deal on 31 October 2019 it is unlikely that you will need a visa for short trips of 90 days or less according to European Commission proposals. STA Travel is a good resource to find out more about travel visas.
7. First time abroad?
All first-time adult passport applicants must now attend an interview to verify their identity. It now takes up to six weeks to get a first passport. For more information please visit DirectGov.
8. Passport validity check
For certain countries – and in the event of a no deal Brexit – your passport must be valid for six months after the date you travel and be less than 10 years old.
9. Photocopy your passport
Take photocopies of your passport and other important documents and keep these separate from the originals when you travel and/or store them online using a secure data storage site.
DRIVING TO GERMANY? Don't forget your German emissions sticker and get take out European breakdown cover in case you break down in Germany
10. Emergency contact
Make sure you fill in the emergency contact details in your passport. This will make it much easier for the emergency services to contact someone in case of an emergency.
Did you know you could be fined up to €530 for not carrying the right kit with you in France?
11. Share your trip details
Tell a friend or relative where you are going and for how long for – give them some idea of your itinerary if possible and an emergency contact number.
12. Emergency funds
Take enough money for your trip and some back-up funds in a mix of cash and travellers' cheques – make a note of the cheques' numbers before you go.
13. Travel guide
Invest in a good travel guide to help you plan your trip.
Yes, be spontaneous, but there's nothing more frustrating than walking round in the heat for hours looking for the nearest good restaurant or cashpoint and a guide can point out these with ease.
14. Duty free allowances
​Check HM Revenue & Customs Travel website for information on duty-free allowances and any banned goods etc.
15. Vaccine check
Visit a travel health centre or your GP to find out what vaccinations or medication you may need before your trip – do this early as some destinations require vaccinations months in advance of your trip.
16. International Driving Permit
Check whether you need an International Driving Permit in the country you plan to visit.
17. Find the nearest embassy
Check the Foreign and Commonwealth Office's website to find out where the nearest embassy is, what services they offer and their opening times – you never know when you might need to contact them and it's better to be safe than sorry.
18. Don't travel without travel insurance 
If you become seriously ill or injured abroad, you will need full travel insurance to cover any medical bills, otherwise you could be left with a hefty bill after you get better – most countries will even charge you if an ambulance is called out.
Also make sure your insurance covers you for any activities you are likely to undertake such as water sports and you are covered should you decide to ride or be a passenger on a motorbike or moped.
19. Get a free European Health Insurance Card
A European health card isn't a substitute for travel insurance, but it does entitle you to free or reduced-cost emergency care in some instances.
To find out more about what they cover, visit the NHS advice page. 
Also remember, you need to call 112 to contact the emergency services in any EU country.
20. Make sure your car is in good running order
Prepare your car before your trip by making sure it is serviced at your local garage.
There are also simple things you can do yourself to make sure your car is in good, roadworthy condition including the under-the-bonnet check in our video below and checking your tyres are in good condition.